Sooke Chinook
Enhancement

In 2016, a community-based initiative, coordinated and administered by South Vancouver Island Anglers Coalition, was launched to address a local wild salmon concern.  Named the Sooke Chinook Enhancement Initiative, this project is designed to strategically increase the number of large adult Chinook salmon in the Juan de Fuca Strait during the months of July, August and September each year.  This greater abundance of Chinook will provide key pre-winter food for the endangered Southern Resident Killer Whales, as large adult Chinook are their preferred diet (~80% annually). In addition, these fish will support local First Nations, commercial and public fisheries.
This enhancement initiative located in Sooke, British Columbia is part of the "Orca Food Security Program" (OFSP), a recommendation paper submitted by South Vancouver Island Anglers Coalition for consideration (pdf documents available through this website).  The OFSP offers short-term solutions to address the impacts of declining Fraser River stream-type Chinook and provides a pathway for survival of the endangered whales and the salmon fisheries during a comprehensive government run Southern BC Chinook recovery program.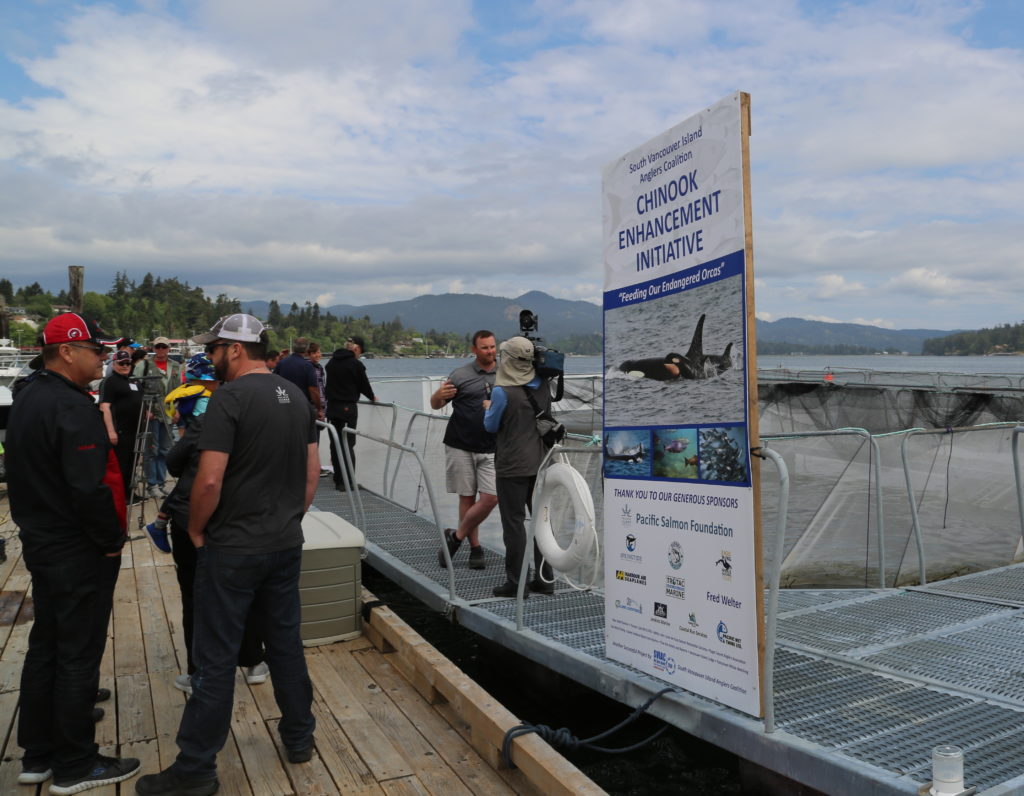 Please Seriously Consider Making a Donation to
the Sooke Chinook Enhancement Initiative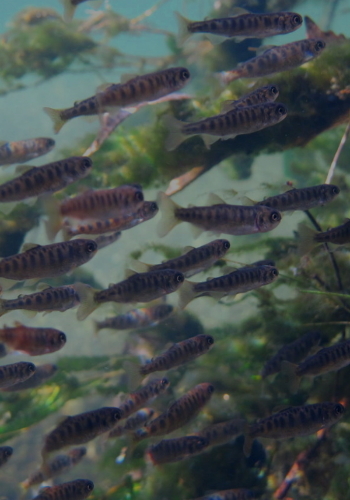 A Community Success Story
Despite the challenges confronting many organizations posed by the COVID-19 pandemic, in 2020 South Vancouver Island Anglers Coalition has again successfully delivered the Sooke Chinook Enhancement Initiative.  Approximately 670,000 healthy young Chinook salmon were released to enjoy several years in the ocean during the month of May.
Since our first transplant of Chinook smolts in 2016, this initiative has successfully raised and released over 1,875,000 healthy robust little fish.  This is a story for the whole community to be very proud of, especially when one considers the project is 100% privately funded by donations and non-government grants. 
Anecdotal evidence of Orcas feeding near the mouth of the Sooke Basin at the end of August and beginning of September are indicative of large adult Sooke origin Chinook being plentiful. This past fall saw a significant increase in Chinook showing up in the Sooke River, in fact estimates are as much as triple the average return and anglers witnessed improved catch in August too
Using only wild Chinook salmon brood stock and carefully rearing the juvenile fish in a world-class hatchery facility, our salmon are then strategically transplanted into Temporary Marine Enclosures (TMEs).  The pre-release holding period in the TMEs allows the salmon smolts to acclimatize to salt water, learn the "homing" scent of the Sooke River, plus enjoy two to six weeks of a limitless food buffet.  The outcome is the release of robust healthy salmon smolts and increased survival to adulthood when compared to traditional hatchery practises and early river release.
If you are interested to make a donation, volunteer or find out more about
the Sooke Chinook Enhancement Initiative, please  contact SVIAC president,
Christopher Bos at (778) 426-4141 or email us – info@anglerscoalition.com